Michael here with our latest Earthdawn blog post. I apologize if this post goes up later than usual, the fact that this was on my list this week simply slipped my mind (probably again, as I may have used this excuse before).
[Editor's Note from Josh: It's okay, Michael, at least it got posted on Friday, unlike my last one which didn't go up until Sunday.]
In any case, I've got Legends of Barsaive on the brain today. Looking at my Haven Guidebook, it says first printing was January 2016, which means you guys have been playing in our Living Campaign for four years. I think we started playtesting in 2015, which means our storyline pitch was likely 2014.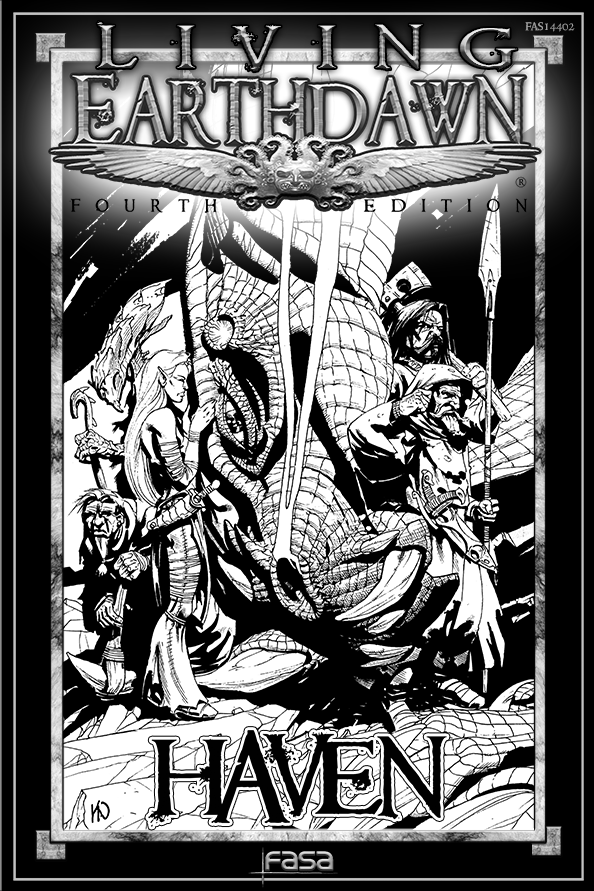 Its been a little bit, but we've stayed the course so far and will soon be writing the climactic end to our first season. Those of you who have played through the series to date may be wondering, what's next?
Right now, the team is working to edit and polish drafts of the next four unreleased modules (chapters nine through twelve). These are in various states of completion (some haven't even yet hit a public table!), but all are making strides towards their final versions. From there, we have only four final chapters (thirteen through sixteen) to write and playtest before concluding the story we pitched back in 2014.
Releasing eight modules may sound like it will take some time, and it will, but we're also approaching the stage where we need to start thinking about pitches for what comes next. Support for this product line has been amazing thus far and we want to be sure to keep Legends content coming out for the community. So, where do we go from there?
At its core, Legends of Barsaive has been meant to be an introduction to the setting and the mechanics of progressing a character during a campaign. We set our Legend Point awards to limit character progression to Fourth Circle for not only balance concerns, but also to keep character complexity to a teachable level within a four-hour convention session. With some minor adjustments behind the screen, both new and experienced characters could play through an adventure together without one feeling significantly under- or over-powered.
But reaching the end of our sixteen-part journey creates a dilemma. My original intention was to reset characters at the end of the first season in Haven. Like many other living campaign settings, the player base eventually ends up with a wide span of experience level ranges and vastly different relationships with the various political factions. This creates an inequality for new players and makes balancing encounters more difficult.
We want our player base to continue to grow and keep this series as approachable as possible, so a reset to me makes sense. This also gives seasoned players a chance to try out a different Discipline, but I realize how attached to campaign characters people tend to get after several years. We love how passionate those of you who play our games regularly are and don't want to discourage that passion by forcing them to retire their character.
Something else we've been discussing is location: are people getting tired of adventuring in Haven/Parlainth? We've only scratched the surface of the ruins and are positioning Haven's politics to continue to be an interesting plot to explore. On the other hand, the world of Earthdawn is a vast and diverse landscape with many other stories to tell. We intend to complete our major plots by part sixteen, so there is nothing tying us to Haven other than the existing guidebook. We could choose a new location and introduce a brand-new set of NPCs to interact with.
Discussion on the location and character reset are ongoing, but we'll need to come to a decision sooner rather than later. The Legends campaign has always had an element of community feedback. Whether directly or indirectly, the players who come to our tables have caused changes to adventures between the draft stage and the final print version. Some of these ended up as minor troubleshooting notes, while others have led to alternate or optional pathways being written. We enjoy this feedback immensely, so I'm interested to hear what you think about what I've discussed here.
Would people like to see us move season two somewhere outside of Haven? Does the prospect of a character reset discourage people from returning? The Official FASA Discord is usually a good place for feedback of this nature, so drop by and let us know what you want to see for Legends of Barsaive… Season 2!
Until next time, thanks for reading.