Note (4/13/2018): Since the original version was previewed, the talent progression has been tweaked. The version here is the current one.
We've covered the Nethermancer, the Illusionist, and the Wizard. This time we look at the last of the four core magician Disciplines, the Elementalist. As with previous entries in this series, you Morgan provides some additional analysis of the design over on his blog.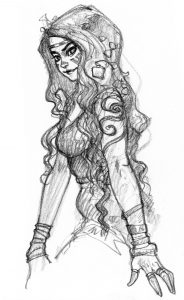 With the number of previews that have gone past, we're starting to get to the point where there's not as much new stuff to talk about. Like the other magicians, the Elementalist gets multiple talent options that can enhance spellcasting, a couple that help with spirits and summoning (like the Nethermancer does), and a couple that highlight the common bonds with Weaponsmiths (Temper Flesh, for example).
There are a couple of talents unique to the Elementalist, however, that I want to highlight. Thunderous Resolve is a talent that provides a bonus to the adept's attempts to shake off ongoing spell effects. Plant Talk isn't unique to the Elementalist (Scouts get it as an option) but can be a useful intelligence-gathering talent option.
Elemental Mastery is a straightforward, but powerful talent. For any spell with an elemental keyword (earth, air, fire, etc), each Thread Weaving test gains a bonus equal to the talent rank. This makes it more likely to gain extra successes, which makes casting spells with more threads (or extra threads) more efficient. When combined with their Master ability Elemental Form, their elemental spells become even more impressive.
Finally, the optional talent Shock Treatment provides the opportunity for those targeted to make an immediate Recovery test (even in combat) with a bonus based on the result of the Shock Treatment test. Its main intent is to help awaken unconscious characters.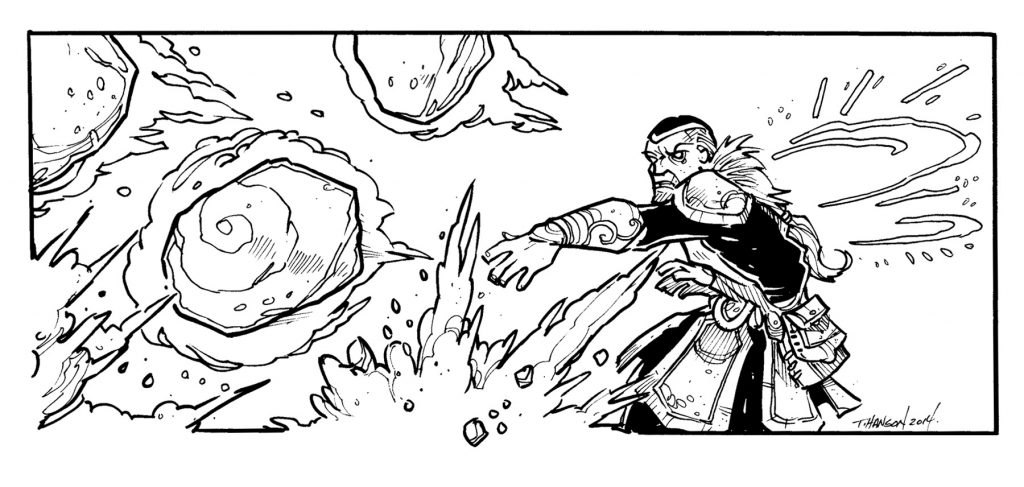 Warden Talent Options: Armored Matrix, Contest of Wills, Evidence Analysis, Iron Constitution, Perfect Focus, Plant Talk, Range Pattern, Summoning Circle, Suppress Curse, Temper Flesh
Ninth Circle
Earth and Wind: The adept takes 2 Strain and makes an Elementalism (6) test. If successful, they may either: (1) Create a circle of earth with a diameter of 2 yards per success that grants all characters within the circle +3 Mystic Defense. This effect lasts for as long as the adept desires, up to 24 hours, or (2) Create a flow of air which circulates through a sphere with 2 yard radius per success. The boundaries of the sphere are barely visible. The air is brought in from the Plane of Air and, though cold, is clean and fresh, and immediately disperses any noxious fumes. If they are caused by a magical effect, the Elementalism test result is treated as a Dispel Magic test. The effect lasts for as long as the adept desires, up to 24 hours.
Karma: The adept may spend a Karma Point when designing or crafting an item.
Discipline Talent: Thunderous Resolve
Tenth Circle
Defense: The adept adds +2 to their Physical Defense.
Mystic Armor: The adept adds +1 to their Mystic Armor.
Discipline Talent: Elemental Mastery
Eleventh Circle
Defense: The adept adds +1 to their Social Defense.
Karma: The adept may spend a Karma Point to improve the bonus from a spell they cast on an ally by +2.
Discipline Talent: Vine Armor
Twelfth Circle
Defense: The adept adds +4 to their Mystic Defense.
Recovery: The adept gains 2 additional Recovery tests per day.
Discipline Talent: Concise Casting
Master Talent Options: Burning Vigor, Casting Pattern, Effect Pattern, Life Check, Second Chance, Shared Matrix, Shock Treatment, Unflinching Fortitude
Thirteenth Circle
Elemental Form: As a Standard action for 5 Strain, the adept draws on their connection with the elements and merges their spirit with one of them. While this ability is active, they gain a +3 bonus to Spellcasting, Thread Weaving, and Effect tests for all spells of the selected element, and each spell is cast with a free extra thread (this still counts toward normal maximums). The adept cannot cast spells of the element which has advantage over them (air cannot use earth, earth cannot use wood, fire cannot use water, water cannot use air, and wood cannot use fire). The adept is limited to a number of rounds in the form equal to their rank in Elementalism per day.
Defense: The adept adds +3 to their Physical Defense.
Initiative: The adept adds +1 to their base Initiative Step.
Karma: The adept increases their Karma +1 Step to a d8.
Discipline Talent: Elemental Walk
Fourteenth Circle
Defense: The adept adds +5 to their Mystic Defense.
Mystic Armor: The adept adds +2 to their Mystic Armor.
Discipline Talent: Stone Skin
Fifteenth Circle
Defense: The adept adds +2 to their Social Defense.
Recovery: The adept gains 3 additional Recovery tests per day.
Discipline Talent: Spliced Weave