The real world is seeing strange and uncertain times. As a suburbanite of the Chicagoland area I just had my shelter in place order extended through the month of April and will continue working from home alongside my fiancee. We will endeavor to be the hermits we know we can be. And my situation could be construed as the best case scenario for much of the continental US, as I continue to get a steady paycheck and still have my health.
With all the madness going on in the real world, it's only natural to look for some sort of escape.  I am excited to have this opportunity to announce a supplement to my escape of choice: Earthdawn! That's right, Andi is finally letting me announce a title!
Iopos: Lair of Deceit is ready to go live on Kickstarter! With your help, we can scrounge together our printing costs and distribute some pdfs that all of us on the Earthdawn team are very excited about!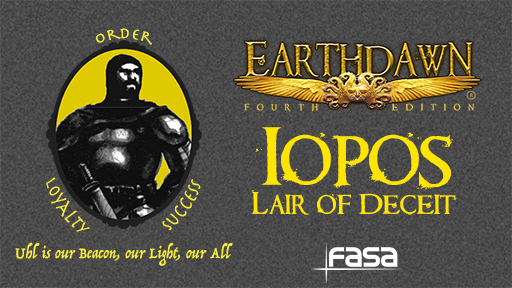 This book will be over 250 pages of goodness covering the villains you love to hate: the Denairastas. It offers an unprecedented look into the city of Iopos, the convoluted family tree that rules it, and the rebels attempting to fight their iron-fisted regime. Please check out the Kickstarter page, linked here, and follow the project to be notified when it goes live on Monday, April 6!
We know many of our fans might be facing uncertainty in their future, and our goal is not to put undue pressure on any struggling wallets. As such, we intend to keep this campaign lean and mean. We only have one, simple stretch goal this time around. (We've squirreled away ideas for the next one…hopefully later this year!)
As with the Mystic Paths Kickstarter, we've got bundle packages that allow you to get multiple books if you've got holes in your collection you want to fill. Any physical books include the PDF at no extra charge, so you can get the best deal possible.
If you have any feedback, questions, or concerns before our kickstarter goes live (or just want to hang out) feel free to join us on Discord! Otherwise, we are excited to see how this new Kickstarter project goes!
Stay safe and healthy everyone!
About the Blogger:
Kyle Pritchard is a second-generation tabletop gamer who has been slinging dice since before he was crawling. He's been working with FASA Games since 2014 and has been a member of Earthdawn Team since 2018.