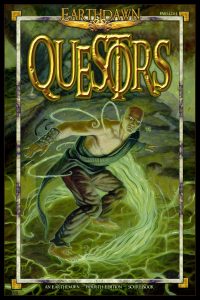 It may be Friday the 13th this week, but it's good luck this time! The Questors sourcebook for Earthdawn has been sent off to the printer, and will be available in PDF through our web store this Friday, as will pre-orders for print copies.
I shared two previews for the book:
I'm excited to see this book in the wild. To be honest, I've kind of got that nervous, butterflies-in-the-stomach feeling, the same way I feel before the curtain goes up on a performance. I'm proud of this book and the work my talented writers, designers, and artists did.