It's time for another preview of the high Circle progression and talents available in the upcoming Ear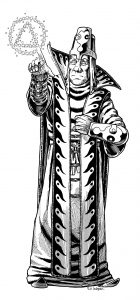 thdawn Companion. Featured this week is the Wizard, master of magic. If you want a look behind the curtain and some thoughts about the design, you can find them over on Morgan's blog.
What I want to feature in my commentary are the new Glyph talents. These Discipline talents are unique to the Wizard, and really bring into focus their mastery of all things magical. They are Simple or Free actions that allow the Wizard to use their understanding of magic in special ways.
Glyph of Unweaving enhances Dispel Magic tests, as well as providing a bonus to tests that resist the ongoing effects of a spell.
Glyph of Shielding provides a bonus to the Wizard's Mystic Defense, using their understanding of magic to protect themselves from harm.
Glyph of Attunement gives the Wizard even greater flexibility with their spell selection, allowing them to replace a spell in one of their matrices as a Simple action, saving them precious time when reattuning on the fly.
Finally, Glyph of Reversal acts similar to Steel Thought in allowing the Wizard to avoid spells directed at them, but adds the ability to reflect the spell back at the original caster like the Riposte talent does for melee attacks, or the Witty Repartee talent does for social attacks.
These new talents are among my favorites added to the new edition, and really hone the Wizard's theme to a fine edge.

Warden Talent Options: Armored Matrix, Astral Pocket, Empathic Sense, First Impression, Graceful Exit, Matrix Sight, Perfect Focus, Range Pattern, Safe Thought, Thought Link
Ninth Circle
Matrix Split: The adept may allow any of their spell matrices to store an additional spell by taking 2 Blood Magic Damage for each matrix affected. Each matrix may only be split once, and only the adept's personal matrices (not spell matrix items) may be affected. The total Circle of the spells in the matrix cannot exceed the spell matrix rank. Armored and Enhanced matrices no longer hold a thread if split. This ability lasts 24 hours, and the damage may be healed once it ends.
Karma: The adept may spend a Karma Point on Recovery tests.
Discipline Talent: Eidetic Memory
Tenth Circle
Defense: The adept adds +2 to their Social Defense.
Initiative: The adept adds +1 to their base Initiative Step,
Discipline Talent: Glyph of Unweaving
Eleventh Circle
Defense: The adept adds +1 to their Physical Defense.
Karma: The adept may spend a Karma Point to allow an extra thread on a spell they are casting.
Discipline Talent: Glyph of Shielding
Twelfth Circle
Defense: The adept adds +4 to their Mystic Defense.
Mystic Armor: The adept adds +2 to their Mystic Armor.
Discipline Talent: Concise Casting
Master Talent Options: Astral Domain, Casting Pattern, Effect Pattern, Memory Probe, Second Chance, Shared Matrix, Soul Aegis, Undermine
Thirteenth Circle
Mystic Triangle: As a Standard action, the adept may take 4 Blood Magic Damage to create a mystic triangle around them, each side no more than 2 yards long. While the adept is in the triangle, they gain a +5 bonus to Spellcasting and Thread Weaving tests, including talents that replace them (e.g., Concise Casting), and Glyph tests. The triangle remains effective until the adept leaves its confines, after which it disappears and the damage may be healed normally.
Defense: The adept adds +3 to their Social Defense.
Karma: The adept increases their Karma +1 Step to a d8.
Recovery: The adept gains an additional Recovery test per day.
Discipline Talent: Glyph of Attunement
Fourteenth Circle
Defense: The adept adds +5 to their Mystic Defense.
Initiative: The adept adds +2 to their base Initiative Step.
Discipline Talent: Glyph of Reversal
Fifteenth Circle
Defense: The adept adds +2 to their Physical Defense.
Mystic Armor: The adept adds +3 to their Mystic Armor.
Discipline Talent: Spliced Weave