Noble Armada Pre-Order Now Available!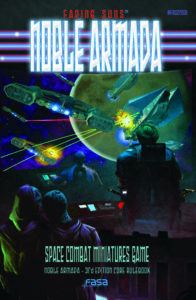 The pre-order of the Noble Armada Third Edition Core Rulebook is now available and online in our store! The pre-order of the book is available at a 15% discount from its normal cover price throughout the month of December.
As an added bonus, if you pre-order the book you get the early access beta PDF! What is in the PDF? The full playable game rules are already in the book. We are adding photographs and artwork over the next month while we gear up for the print release. Each week as we update the PDF you will be able to download a fresh copy and see the book as it progresses, or even comment on things (like an unclear illustration or photo) and we can correct them in order to make the best possible book we can.
When the book is released you will also get the final updated PDF! Normally we bundle the PDF and book together and offer the PDF as an add-on at 50% off. So this deal just keeps getting better, you get the book at a 15% discount, free PDF, and early access to the game. You can get the pre-order book right here at the FASA Games Shop.
Whether or not you buy the pre-order we welcome you to discuss this product in our forums! We also invite comments or questions about the rules, the miniatures, and the game. Visit the official Noble Armada Forums and let us know what you think!
---
When does the book ship?
The book will ship as soon as we have the final PDF ready. We are aiming right now to have the final draft ready by mid-January but will need to wait for all of the art pieces to come in. Currently we have about 60% of the art done and are taking photographs for examples to get placed in the book.