If you weren't already aware from the multitude of posts that have gone out over various platforms during the past few weeks, FreedoniaCon is taking place next weekend. You can see the full schedule of events taking place here that I and the rest of the FASA team will be running. With this coming up so soon, I wanted to use today's post to take a few minutes to go over the events that I'll be running, both to tell you what's going on for 1879 and give a little more info on what's in store.
I'll be covering events in chronological order with dates/times listed, so you can plan accordingly (as per the schedule, all times are in CST)
Friday, February 18th, 8pm to 11pm: Game Demo (Table 1), Race to the Top
We're going way back with this demo to the very first one we ever ran at GenCon. This one takes place in the Gruv with an expedition to the top of Mount Somter. The British have been methodical in their study of the ruins so far, working from bottom to top, but the Russians have come in with an air ship, obviously planning to make a bee line to the top. Not wanting to fall behind, the British have quickly scrapped together an airship of their own and an expedition crew to make the trek, which is where the players come in. The race is on to see not only who can get to the top first and lay claim, but to actually examine the place and see what exactly is up there.
Saturday February 19th, 10am to 1pm: Game Demo (Table 1), Punchd
This is probably my favorite of the demo scenarios that we've run at conventions so far, not counting the one I'm writing for this year (which we'll get to in a moment). Starts out with a simple job; a dodger run into a factory at night, run some cards in their Engine, grab the output deck and get back out quietly. Of course, things can never go simply, and the group will quickly find themselves in the middle of some big bad mystical goings on by some people who would very much prefer to see them dead in order to keep it quiet.
Saturday, 2pm to 4pm: Main Room, 1879 Product Discussion and Q&A
If you've got any questions about 1879 and where the product line is headed, this is one you'll want to tune in for. We'll be doing a general discussion of what we've got planned going forward (nothing too in depth – we don't want to give away any major spoilers!) and talk about some of the future books we've got planned. There will be a large segment of time for you to be able to voice your questions, let us know what you've enjoyed so far and what you'd like to see in the future. I'm very much interested in hearing your feedback, so if you'd like to have some influence on what products start coming down the line, join in and let us know!
Saturday, 5pm to 8pm: Main Room, 1879 Exhibition Demo
This is going to be a public demonstration of the demo scenario that we'll be running at GenCon this year, and what's more, you'll actually get to see the FASA team playing it! I've figured on a bigger time bank than we will likely need to get through the scenario so that we'll also have some discussion time at the end. This will be the very first play test of the material, and thus far no one has seen it other than me; not even the writers know what is going to be in store for them. The demo probably won't take the whole time slot, so for any time left, we'll have some open discussion time for feedback and fun. If you want to see what it's like at a game table with FASA people playing, come check it out.
Sunday, February 20th, 11am to Noon: Main room, Let's Talk About Trains!
No major agenda or plans to cover on this one, I'm just figuring to have a fun discussion about trains and plans for them in 1879. I may drop a few Fort Alice spoilers in here for things I have planned for the railroad chapter, so if that interests you, stop on by. As of right now, the slot after this is still open, so I may let it run a bit long.
Sunday, 1pm to 4pm: Game Demo (Table 1), Wrym in the Big Apple
Last 1879 demo for the con. As you can probably tell from the title, this one is set in New York, with the players being called in to investigate a rather daring theft of an artifact belonging to a dragon. It's more than just a paying gig on the line for this one – fail, and you may end up being lunch.
Fair warning for all of the events I'll be hosting: there is a high likelihood that all of them will at some point be graced with an on-camera visit from our moral support officer, Sunny. I can never predict when or where he'll want to jump on screen, but if you need more encouragement to tune into my events, just know you'll get a pretty good chance at getting a look at this adorable little face.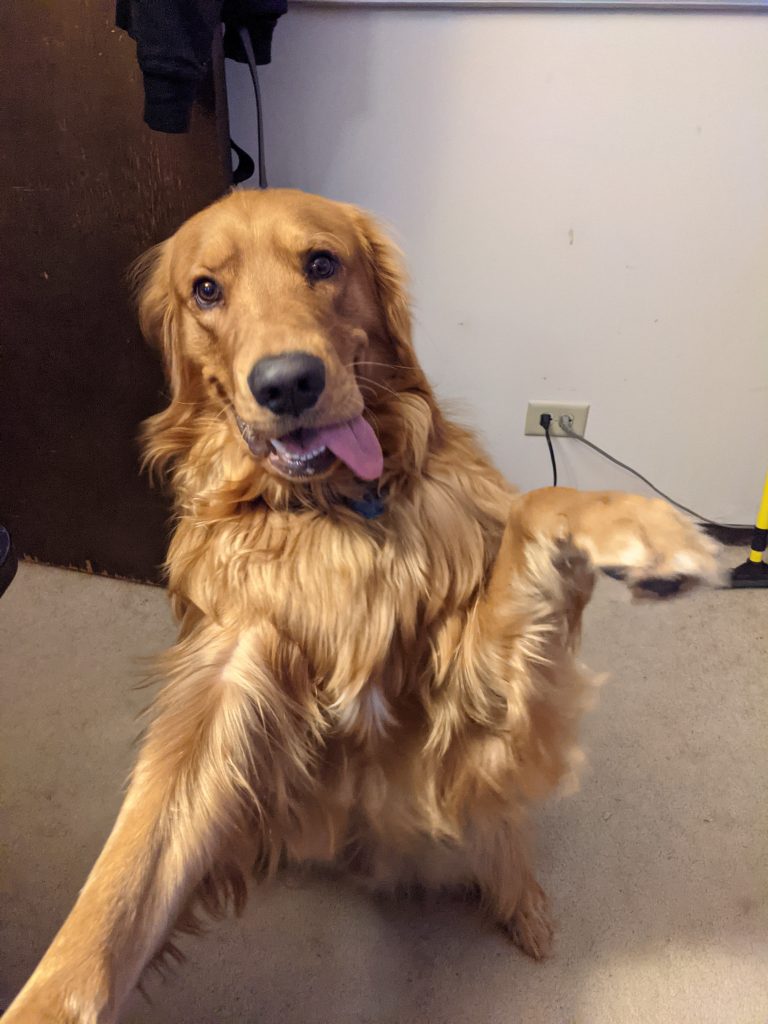 I will also be tuning in to some of the other events as time allows, so you'll see me popping in and out in various places. Feel free to send a wave my way when you see me, and please do check out some of the events mentioned above; while I'm capable of droning on and on to fill time, it's much more interesting when I've got other people around to engage with, and it always does my heart good to actually see fans getting engaged and involved with the product line I and the rest of my team put so much time and effort into.
Speaking of, it's time again for another reminder to check out the 1879 Kickstarter going on now! I posted an update last week about our first stretch goal, and I'm really hoping we can make that happen, as I'd love to see it get out into your hands.
Anyway, that's all I have for today; lots of prep work for next week to do! Hope to see you then!